Hey there lovelies!! Thank heavens it's Friday. Although it's Friday the 13th, I am in no way superstitious! I don't believe in superstitions; however, my granny, God bless her soul, was highly-superstitious. One superstition of hers was saying "Bread and Butter" if you were walking with someone and, let's say, you and your friend walked on opposite sides of a stop sign or something like that. Well, in her mind, you were required to say "Bread and Butter." Now being a mischievous little child, I had fun with this. One time Granny took me and my bestie, Elisha, to the mall. We were 8 maybe. Bad idea Granny! We would do our very best to walk on the opposite of anything from Granny. She said "Bread and Butter" about a million times. She eventually caught on! haha But I figure, from heaven, she's probably over it.
Well having said that, by the time you read this, I will be tending to the hubs for today. He's having oral surgery to remove some wisdom teeth. So this should be fun! And by fun, I mean that with the highest sarcasm possible. You know what they say about men vs. women and sickness.
Wish me luck!
Anyways, I'm linking up with Aimee from This Darling Day for Find Beauty Friday! #FBF This is me holding my dog's hand paw. Out of the 3, Sasha is the only one who tolerates me doing this. I just love dog paws. And I'm obviously an awesome dog-mom. Check it out here, here and here.
Go link up with Aimee by clicking the image below.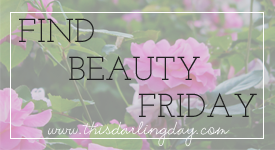 Do you have any superstitions? And do you share any unique moments with your pets? Share below.